A majority of scientific studies have shown regular participation in floatation therapy sessions provide a prolonged and superiorly beneficial experience, with the majority of positive results being retained over the long term when undertaking sessions on at least a once per month basis.
While people still feel great and notice many positive benefits following a single float tank session, the effects are able to be enhanced further, and will be felt to full capacity at around the third session. When you start out with floating, we recommend committing to undertake a minimum of 3 sessions, in intervals of between 2 and 4 weeks, in order to obtain the greatest benefits.
We offer both casual sessions and membership based packages to assist with reducing the costs of regular floatation therapy, so you can benefit from the cumulative effects in a cost effective and flexible manner, for more information please see our float tank deals below.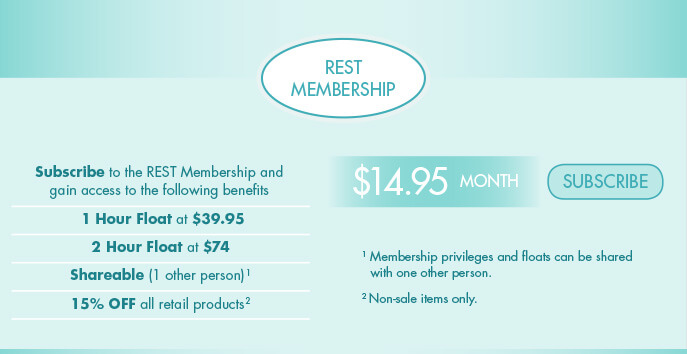 I have found my new sanctuary...
As a busy Yoga and Meditation teacher I am always looking for ways to give back to myself and recharge.
From the moment I walked into Resthouse I knew I'd found my place to unplug, align and heal.
Professional staff, luxurious modern set up and an experience of sheer bliss that I will return to. Don't wait for your next holiday as it's right here!
— Bronwyn Murphy
Relaxing, quiet and soothing...
During float body almost feels non existent while the mind is free to do what it pleases.
I will most definitely return. The short term benefits for the body are similar to a great massage.
The added benefit of allowing your mind to disconnect from the world is almost immeasurable. Thanks Rest House.
— Francis Triansait
Absolutely love this place!
Only place I will go to float! Staff are so friendly and welcoming.
The place has a great vibe and relaxing feel, overall a great experience and definitely makes you want to come back for more! Thanks guys!
— Stephanie Maree
Online Gift Voucher
This Gift Card option can only be purchased online. You can chose your own design as well as write a small message for those special occasions. You will be able to print this gift card once your transaction is complete. You will also receive an email copy of the gift card so it can be printed at a later time. To redeem your gift, bring this gift card to REST HOUSE Float Centre.
Physical Gift Voucher
This Gift Card option can only be purchase in store or by contacting Rest House on 03 8525 1881.
Cancellation Policy
Whilst Rest House prefer not to charge a cancellation fee, we would like to ask that you please respect the time reserved for you. We do understand that unforeseen circumstances occur, therefore we request that you would inform us of your inability to attend to allow us time to offer the newly available appointment to another client.
Only a limited number of appointments are available each day, therefore we appreciate your understanding.
Referral Program
We value your business and trust that your Floating experience has been one worth sharing with your Family, Friends and Work Colleagues. We are pleased to introduce our Referral Program – For every 5 referrals, receive a Complimentary 1 Hour Float. It is our way of saying Thank You for sharing your Love of Floating with others. 
*Complimentary Floats have a 3 month expiry period
Rescheduling/ Purchasing Policy
Rest House aim to keep our clients satisfied, therefore we are happy to reschedule appointment's, but please be mindful when making a purchase as Rest House will not be able to provide a refund if you change your mind about the purchase. As per cancellation policy, we request that you would inform us of your inability to attend to allow us time to offer the newly available appointment to another client.
Membership Cancellations
Membership Cancellations require 30 days notice. The notice can be via an email or a phone call. After we have received official notice please be aware that one more payment will be direct debited from your account prior to the cancellation.